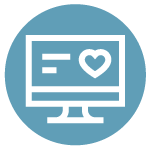 Website Design / E-Commerce
Website design impacts how people perceive your brand and is generally the first impression of your business. Think of your website as your business' digital face, a digital customer service representative, if you will. If someone walks into your business, you would want a friendly face to greet them quickly and make them feel welcomed. Your website is equivalent to that friendly face. People judge how they will be treated and whether or not they can trust you by the appearance and functionality of your website.
Web design is not just about making a site look good, it also aids search engine optimization (SEO). Many web design elements and practices influence how content is published on the site, which in turn affects how search engine spiders crawl and index the site. We make sure that on-page SEO fundamentals are set with best practice standards, giving your site a visibility boost from the start.
Your website's design is an opportunity to set your business apart from the competition and should be designed with user experience top of mind allowing for quick customer conversion. We work with your team to build a site that is functionally sound, welcoming, informative, easy-to-use, and representative of your brand.
Pick Your Plan
No Upfront Costs
Unlimited Changes
18 Month Agreement
With our 18-month plans, we make it easy to afford a professional, unique, custom website that represents your business and meets the functionality needs of how you like to do business. Our plans distribute the cost of your website design, development, functionality features, unlimited changes, hosting, and maintenance over 18 equal monthly payments, allowing your business to stay on budget.
Basic
$425
Up to 5 Initial Pages
Simple Gallery
Simple Portfolio
Simple Forms
Simple Blog
Sliders | Tabs | Accordions
Simple Team Grid
Social Media Links
Pricing Tables
Video Embedding
Expert
$700
Up to 15 Initial Pages
All Features from the Basic Plan
Plus Any of the Following:
Advanced Forms
Payments via PayPal or Stripe
Advanced Gallery | Portfolio | Blog
E-Commerce up to 20 Products
Event Registration
Email Marketing Integration
Elite
$975+
Up to 30 Initial Pages
All Features from the Basic and Expert Plans Plus Any of the Following:
Dynamic Content
Merchant Integration
E-Commerce Unlimited Products
Members Only Integration
Multi-Lingual
3rd Party App Integration
Custom Functionality
After your 18-month agreement is complete, you own your website and all of it's content. You can then choose a hosting/maintenance package that fits your business' needs. If you are not a fan of monthly payments, we are happy to do a 50% down payment at start of project with remainder due at launch of site. Prices listed are based on average website costs. Since technology is ever evolving, this is not meant to be a complete list of available features. If you are needing a feature that is not listed, we are happy to prepare an estimate to fit your business' unique needs.
Let's talk about your website needs!
Contact Us
Each plan includes These Features

Custom Design
We start each site with a blank canvas to create a site that is focused on your brand and marketing strategy.

Responsive Design
Making sure that your website looks good on any device makes for a great user experience.

Content Creation
We use your marketing strategy in the way we tell the story of your products and services.

Unlimited Changes
We give you unlimited changes to content, because you have better ways to spend time running your business.

On-Page SEO
Web crawlers really like it when we provide them with titles, descriptions, alt tags, and such.

Premium Hosting
Fast, reliable, and secure, our hosting provides staging, server page and object caching, and DNS integration.

SSL Certificate
Building trust with your visitors is a must! This keeps visitor's data safe and encrypted.

Performance
A fast loading site is vital for your website visitors to have a good experience.

Software Maintenance
Technology evolves and security is a must! We keep your site updated with the latest and greatest software.

Backups*
Because smart is always cool! Daily backups of all site files and data are held for 30 days.
*If you have a large e-commerce site, backups can be set to run in shorter increments for an additional cost.

24/7 Monitoring
Just in case something happens to your website, we want to be the first to know.

Google Analytics
Your site will be added to a Google Analytics account with monthly stats delivered to your inbox.
FAQs
What if I need slightly more pages than the plan states?
No biggie! If you need a couple more, they're included.
Are photos included with content creation?
Yes and no. We have a subscription to a stock photo library. Images from that library can be included in the design of the site. Any photo requirements outside of what that subscription can provide will be an additional charge. We can also work with local photographers to really bring your brand to life.

What is included in the unlimited changes?
All basic changes are included such as tweaks to copy and image replacement. New feature requests can be added according to your plan's specifications. Our turnaround time on changes are five business days for general revisions; emergency fixes are completed within 24 hours.
Is hosting provided?
Yes. The website plans include our premium hosting which provides website hosting, 24/7 monitoring, SSL certificates, daily backups, and software updates.
If I already have hosting at another company, can I host my new site with that company?
Technically, yes. Website speed, security, and performance are extremely important to us. For this reason, we highly recommend hosting with us (see our hosting details). If you have specific requirements for a hosting environment, please let us know, and we will see what configurations we can implement. If the site must be hosted on a specific server, we can set it up at an additional cost. Payment plans are not allowed for this type of scenario as payment in full would be required at go live.
I need a domain name for my website. How do I get one?
We believe that the domain registration should remain under the business' control and ownership. Think of it as owning the title to your car. We can recommend domain names and help you purchase one under your account. You can add us to the account as the technical contact so that we can help address any issues that may need to be resolved regarding records and domain name servers.
Are payments made directly to my credit card, or can I pay by check?
We prefer automatic payments via ACH or credit card, but as long as the payments are made by the due date, you may pay by check.
Is the site built on a Content Management System (CMS)?
Yes, we utilize WordPress as the CMS. You will be provided admin credentials to access the backend of the site should you want to make your own edits. Your 18-month plan does include us making unlimited content changes for you, as do some of our maintenance packages.
What happens at the end of the 18-month agreement?
After your 18-month agreement is complete, you own your website and all of it's content. At that point, you can choose a hosting/maintenance package that fits your business' needs or renew the plan if you are ready for a new look. We would never want to lose you as a client, but you own the files and could move your site to another company or hosting provider at that time.
What if I decide to add features in the middle of my 18-month plan?
No problem! We want to make sure that your website meets your business' needs. Since we distribute the cost of your initial website design, development, functionality features, hosting, and maintenance over 18 monthly payments, we would retroactively upgrade your plan price.
Can I downgrade my plan before the end of 18 months?
We are happy to adjust the agreement if the features of the higher plan have not been implemented into the site build at the time of notifying us about the change. Because we distribute the cost of your initial website design, development, functionality features, hosting, and maintenance over 18 monthly payments and most of the design and development happens at the beginning of the agreement term, we can not downgrade the plan if design and development have already occurred.
Can I cancel the agreement before the end of 18 months?
Because we distribute the cost of your initial website design, development, functionality features, hosting, and maintenance over 18 monthly payments, cancelling the agreement is only an option if design has not been started. We are happy to work with you on finding a mutually agreed upon rate to cancel the agreement if design and build have already begun. Once site has been launched, there is no option to cancel. You are welcome to pay off the total amount of the agreement at any time, and we will honor our commitment to provide our promised services for the remainder of the 18 months.
How long will it take to build my website?
Building your website will require much communication between our team and yours. The development time varies depending on the amount of customization/functionality required and your team's responsiveness to questions and feedback, as well as the availability of brand assets. Our general time frame is about six to 10 weeks for the Basic and Expert plans.
How soon can we start?
Project start times vary based on our current project load. We will go over this during our initial consultation to see if our timelines are suitable to your needs.
Let's build your brand together!
We work with your team to get a solid understanding of your business and develop a marketing strategy that guides people through the customer journey, turning them not only into customers, but into ambassadors of your brand.
Contact Us